annies burger shack aims to put on the greatest show as it hosts its first ever singalong events
Annie's Burger Shack aims to put on the Greatest Show as it hosts its first-ever singalong events.
Fans of the musical the Greatest Showman are being invited to dress up as their favourite characters and join in with the action when a Derby restaurant hosts its first-ever singalong event.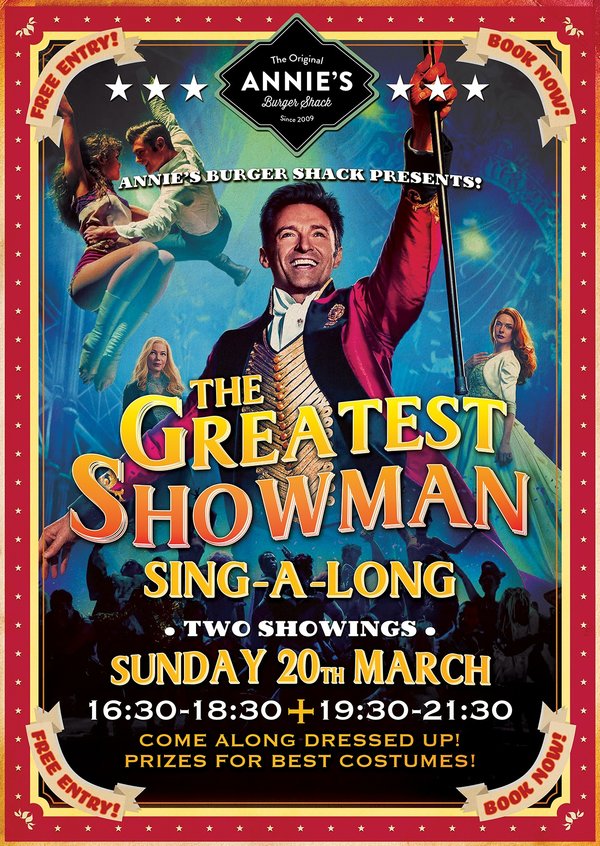 Anchor
Annie's Burger Shack is screening two showings of Hugh Jackman's hugely popular film this Sunday evening (March 20th 2022) in a bid to attract a brand-new audience to its restaurant on Friary Street.
The singalong is the latest entertainment event to be staged at Annie's, which recently hosted its first-ever comedy nights, starring household names Jason Manford and Reginald D Hunter.
This time it will be showing two screenings of the film, at 4.30pm and 7.30pm, and is encouraging diners to join in with the tunes, with prizes on offer for the best fancy-dress costumes on the night.
Annie's owner, Anmarie Spaziano, said: "We always like to try new events that can be fun and entertaining for anyone. We tried comedy and they were both really successful, so we decided we wanted to host a sing-along event and invite more people into the restaurant to enjoy themselves.
"Our trade is steadily growing again, but there is a sense that many people have fallen out of the habit of coming into the city centre for a meal or night out, so this is our way of offering something that's a little bit different.
"Our Derby restaurant is a former church and it lends itself really well to hosting events like this, so although the songs will be very different to the hymns they sang here back in the day, it's going to be fun listening to everybody joining in."
Annie's Burger Shack is one of the city's most popular restaurants, thanks to its huge range of 34 unique, authentic New England burgers, all of which are available in vegan, veggie and meaty, and customers will be able to order their food and drink from their tables while the show is underway.
To book your table for the Greatest Showman singalong visit www.anniesburgershack.com
Want a page like this?
Become a Love Derby Partner and take advantage of our 300,000 page views per year and over 30,000 followers on social media.
Join Us
Join the What's on in Derby mailing list
For exciting weekly what's on and Derby news.