cherry bakewell cheesecake
Cherry Bakewell Cheesecake.
Check out Jenny's recipe to make this scrumptious Cheescake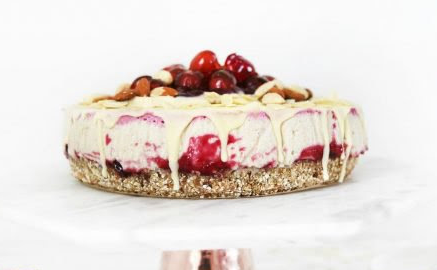 Anchor
Difficulty 2 / 5 (easy 0-5 hard)
Ingredients
250g digestive biscuits
50g toasted flaked almond
1 tsp almond extract
100g melted butter
3 x 300g packs full-fat soft cheese
250g caster sugar
4 tbsp plain flour
2 tsp vanilla extract
3 large egg
200ml fresh soured cream
300g cherry morello jam
Icing sugar to sprinkle – optional
Single cream to drizzle – optional
Method
1. Heat the oven to 180C fan. Line the bases and sides of a 23cm tin with parchment paper. Break the biscuits in a large bowl until they are all crumbs then add the almond extract and melted butter. Once mixed well press the biscuit mix into the prepared tin and bake for 10 minutes.
2. While this is in the oven, prepare the filling by whisking the cheese in a large bowl until creamy, then add sugar and whisk to combine. Whist in the flour, then the vanilla extract, and eggs one at a time, then finally add the soured cream. When the base is done, remove it from the over and set aside to cool.
3. Once the mix is complete, spread the morello cherry jam onto the biscuit base and then pour the mixture on top, smoothing the top as gently as possible.
4. Carefully place the tin on the middle shelf of the oven and bake for 10 minutes. Scatter the remaining almonds on top and put back in the over decreasing the temperature to 90C and bake for a further 35 minutes. Do not remove the cheesecake from the over but turn it off and leave for an additional hour. Once cool remove and store in the fridge overnight for best results.
5. Remove from the tin and sprinkle with icing sugar and serve with cream.
Have you tried it? How did it go? Do you have an variations you'd like to add below?
Want a page like this?
Become a Love Derby Partner and take advantage of our 300,000 page views per year and over 30,000 followers on social media.
Join Us
More Recipes
Don't let the fun stop here. Find more fun things to do and food & drink in Derby.
See Recipes
Join the What's on in Derby mailing list
For exciting weekly what's on and Derby news.