the 10 best sunday roasts carveries in derbyshire
The 10 Best Sunday Roasts & Carveries in Derbyshire.
The best Sunday Roasts in Derbyshire just for you.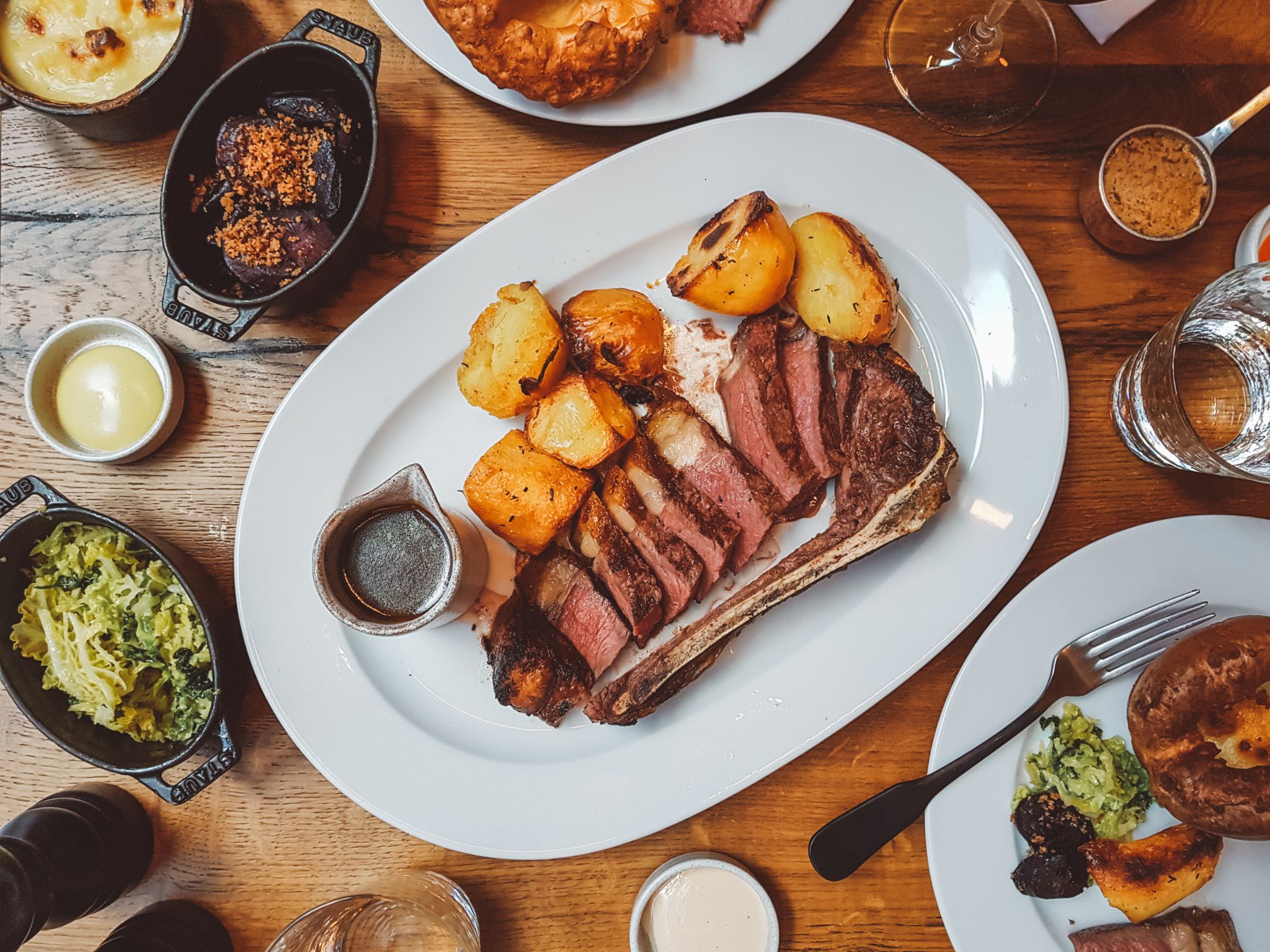 Anchor
About The 10 Best Sunday Roasts & Carveries in Derbyshire.
The best Sunday Roasts in Derbyshire just for you.
Derbyshire has some wonderful pubs, bars and restaurants so it can be hard to decide where to go and eat.
I'm going to make it a little bit easier for you by narrowing down the top 10 places in Derbyshire to delve into a beautiful Sunday Roast.
Note: I would advise booking to guarantee a table as Sundays can be incredibly busy times.
1. Kedleston Country House
The Kedleston Country House, Kedleston Road, Quarndon, Derby, UK
A family home set in the historic Kedleston Estate in Derbyshire, this stunning Georgian house is quintessentially English with rolling countryside views. Offering a dedicated Sunday menu with roast favourites, such as beef or pork loin, it's a must-try for anyone who loves a tasty Sunday dinner within a country setting.
Read more about the Kedleston Country House.
2. Bear at Alderwasley
Belper, Derbyshire, DE56 2RD
When we asked our followers what the best Sunday Roast in Derbyshire was, the Bear was repeatedly mentioned so it seemed a appropriate to include it in our guide.
With amazing views, a rustic cottagey interior and a tasty Sunday Roast as well as other traditional pub food items, the Bear is certainly worth the trip.
** Please be aware that this restaurant may be closed **
3. The Queens Head
131 Alfreton Rd, Little Eaton, Derby DE21 5DF
Located in Little Eaton, about 10 minutes outside Derby City Centre, The Queens Head boasts excellent reviews. Their Sunday lunch menu runs from 12-6pm and includes the wonderful, traditional Sunday roast – there are also other options if one of your party doesn't fancy a roast.
Read more about The Queens Head.
4. The Old Bell
51 Sadler Gate, Derby DE1 3NQ
The Old Bell is another gem located in the heart of Derby City Centre on Sadler Gate. In a recently refurbished Tudor building, its Sunday menu is served between 12-4pm and offers delicious food. With locally sourced rib of beef and roasted pork belly, served with seasonal vegetables and a good old yorkie pud (my inner Yorkshire coming out now), it's hard to leave this one off the list. There is also a vegetarian option of a Mushroom and Stilton Pie. Worth a look.
Read more about The Old Bell.
5. Exeter Arms
Exeter Pl, Derby DE1 2EU
The Exeter Arms has been named the 'Food & Drink Pub of the Year' quite a few times so this one is a must visit. Their Sunday menu changes weekly (Excluding the roast beef dinner), so the menu isn't available online.
However, awards put this place above many. Priced around £13, the menu is not the cheapest option but you are getting good value for money.
Read more about the Exeter Arms.
6. Farmhouse at Mackworth
60 Ashbourne Rd, Mackworth, Derby DE22 4LY
Set in the beautiful Derbyshire countryside, and only 5 minutes drive out of Derby city centre, the Farmhouse at Mackworth is a fantastic place to spend an afternoon. The Sunday Lunch menu has typical favourites such as stuffed belly of pork, chicken wrapped in bacon and beef. The Farmhouse also serves the best parsnip I have ever tasted. Certainly one to try, and definitely one of my favourite places for a Sunday lunch in Derby.
7. The Harrington Arms
4 Grove Cl, Thulston, Derby DE72 3EY
The Harrington Arms is located just outside Derby City Centre in Thulston and offers a great Sunday lunch menu which includes the brilliant traditional Sunday roast meats, vegetarian options and children portions. It works on a 1,2 and 3 course basis, priced from £12.95 for 1, £13.95 for 2 and £14.95 for 3. Reviews put this above many and is definitely one to consider.
8. The Yard
Pride Park, Derby DE24 8XL
The Yard is possibly not the first place you think of when you want a tip-top Sunday Roast but we've been there, tried it and definitely would've had the T-shirt had it been on offer (please note the T-shirts don't exist). We wrote a review on it, check it out here. The meal came out well presented with a generous portion of beef, succulent and cooked perfectly.
The large Yorkshire pudding was crunchy and the gravy was thick and tasty, so much so we asked for extra of which they kindly obliged and as the key ingredient, it's important to get it right. The veg came with radish and asparagus which was an interesting choice but went well, and of course there was some lovely stuffing.
Read more about The Yard.
9. Roosters Bar & Restaurant
Main Rd, Morley DE7 6DG
Serving 10am-9pm (Phew! – Long shift for those working!), Roosters Bar & Restaurant boasts many fantastic online reviews about its great traditional Sunday roasts and value for money. One review states that for a group of four, they spent less than £50, which is incredible value for money when compared to other places. Great food on offer and one to check if you don't want to spend a fortune.
10. The White Swan
Shepherd St, Littleover, Derby DE23 6GA
Finally, The White Swan in Littleover – a little outside Derby City Centre. Served from 12-4pm, the carvery is priced at £7.25 and the available meats are beef, pork and turkey (Turkey for me is a Christmas only meat). Smaller portions and vegetarian options are priced at £4.95, which is incredibly good value for money! The White Swan boasts excellent online reviews too.
Where's your favourite Roast in Derbyshire?
Want a page like this?
Become a Love Derby Partner and take advantage of our 300,000 page views per year and over 30,000 followers on social media.
Join Us
Write a review.
To help your fellow visitors, add a review of The 10 Best Sunday Roasts & Carveries in Derbyshire.
Write a review
More Restaurants in Derby
Don't let the fun stop here. Find more fun things to do and food & drink in Derby.
See Restaurants in Derby
Join the What's on in Derby mailing list
For exciting weekly what's on and Derby news.