opulence restaurant at cathedral quarter hotel
Opulence Restaurant at Cathedral Quarter Hotel.
Opulence Restaurant, Saint Mary's Gate, Derby, United Kingdom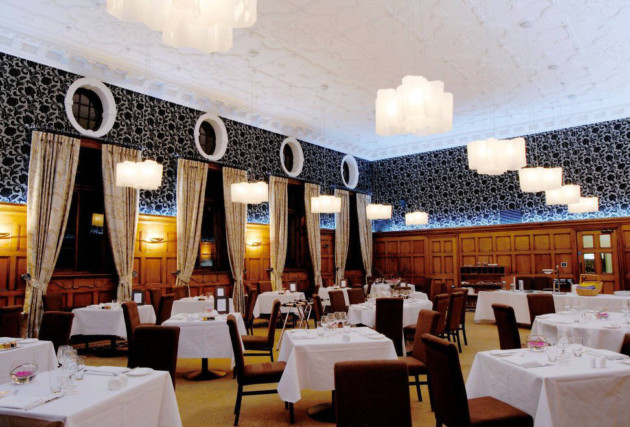 Anchor
About Opulence Restaurant at Cathedral Quarter Hotel.
Opulence Restaurant at Cathedral Quarter Hotel is one of the most impressive restaurants in Derby
With its grand sweeping staircase with original stained glass windows and Scaglioli banisters that leads you upstairs to Opulence Restaurant. HRH Her Majesty the Queen has even dined at the restaurant herself in 2010.
The restaurant offers an inspiring menu of modern British food, using a range of locally sourced ingredients. Each and every dish is beautifully presented and put together with freshness and seasonality in mind.
From the delicious a la carte menu to a set menu full of your favourites, afternoon tea, lunches and Champagne breakfast; Opulence Restaurant has something to offer everyone.
Try the delicious set menu priced at £14.95 for two courses and three courses for £19.95 available Tuesday to Saturday.
Located within the hotel is Bar Sixteen – an intimate city centre bar perfect for a night out or an evening in which offers a relaxed environment within the historic building.
We serve a wide range of cocktails – from your classic to our own unique creations, as well as a range of beers and wines from across the world. If you fancy yourself as a cocktail connoisseur or are looking for a night out with a difference, Bar Sixteen offers cocktail schools where you get to learn the tricks of the trade from our skilled team priced from £25 per person.
To book contact the hotel on 01332 546 080
Want a page like this?
Become a Love Derby Partner and take advantage of our 300,000 page views per year and over 30,000 followers on social media.
Join Us
Write a review.
To help your fellow visitors, add a review of Opulence Restaurant at Cathedral Quarter Hotel.
Write a review
More Restaurants in Derby
Don't let the fun stop here. Find more fun things to do and food & drink in Derby.
See Restaurants in Derby
Join the What's on in Derby mailing list
For exciting weekly what's on and Derby news.