fara live in belper
Fara, 'live' in Belper.
BELPER MEADOWS CRICKET CLUB, Bridge Street, Belper, UK
Sun 12th February 2023
7:30 PM till 10:30 PM
£18.00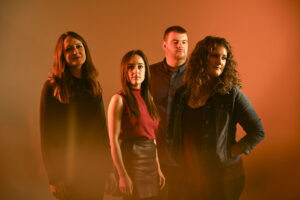 Location
BELPER MEADOWS CRICKET CLUB, Bridge Street, Belper, UK
Opening times
Sun 12th February 2023
7:30 PM till 10:30 PM
Tickets & Information
£18.00
Anchor
Black Dog Radio Presents.......Folk At The Meadows
Filskit Fiddles Fae Orkney
("Filskit, adj: frisky, high-spirited, exuberant; addicted to immoderate hilarity")
SCOTS TRAD MUSIC AWARDS BEST LIVE ACT/BELHAVEN BURSARY NOMINEES 2019
BBC RADIO 2 HORIZON AWARD NOMINEES 2017
GERMAN CRITICS' CHOICE AWARD WINNERS 2019
"Torch-bearers of a freshly reinvigorated tradition. . . one of the most exciting Scottish folk discoveries in recent years" (AllMusic)
"Gifted, imaginative, complex and engaging. . . a sound that just exudes joy" (FRUK)
"Bring contemporary fiddle music to new heights. . . enthralling vocal arrangements" (Scotsman)
"From delicate, elegant and beautiful to full and rich and fiery. . . spellbinding" (Fatea)
Fired up and raring to go after a lockdown spent creating hugely popular film project, 'The Orkney Series', Scottish powerhouse quartet FARA unveil their highly anticipated third studio album in 2022. Bursting with brand new self-penned instrumental tracks, and with songs adapted from the words of Orcadian poets, 'Energy Islands' is fuelled by their native Orkney's revolutionary role in renewable energy.
Fusing the talents of three fine Orcadian fiddlers and vocalists - Jeana Leslie, Catriona Price and Kristan Harvey - alongside stand-out Highland pianist and newest member Rory Matheson, FARA have firmly secured their foothold at the forefront of the Scottish folk scene since taking 2014's Orkney Folk Festival by storm. Their unique mix of spell-binding vocals, intricately woven fiddle harmonies and energetic closers, combined with an obvious kinship born in childhood, is sure to delight and entertain audiences wherever they go.
Shortlisted in 2015's Scots Trad Music Awards for Up and Coming Act of the Year, the band performed a triumphant set at the 2017 BBC Radio 2 Folk Awards at the Albert Hall as Horizon Award nominees and have gone on to win a German Critics' Choice Award and a Live Act of the Year nomination at 2019's Scots Trad Music Awards. They continue to tour internationally, with sell-out performances at festivals across Europe, Australia and North America, as well as a tour of Asia due in 2023.
Want a page like this?
Become a Love Derby Partner and take advantage of our 300,000 page views per year and over 30,000 followers on social media.
Join Us
Join the What's on in Derby mailing list
For exciting weekly what's on and Derby news.