the wonky table
The Wonky Table.
The Wonky Table, Sadler Gate, Derby, United Kingdom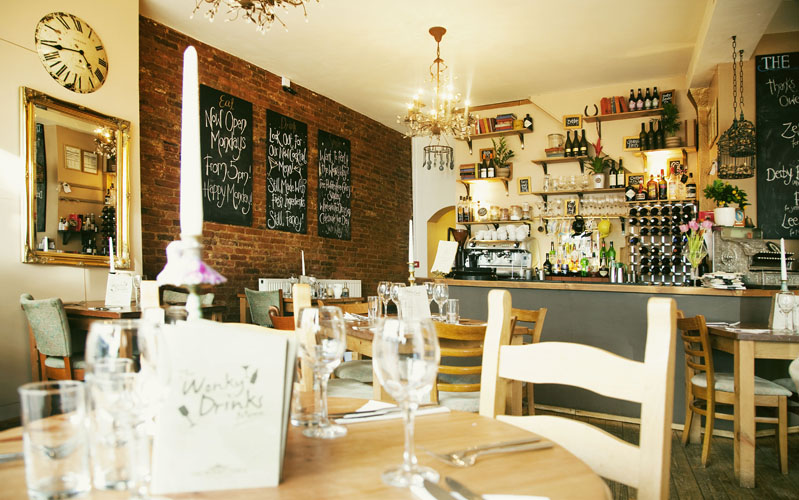 Anchor
About The Wonky Table.
The Wonky Table restaurant offers an eclectic mix of friendly service, great food and a relaxing quirky environment.
The Wonky Table is a popular independent restaurant situated on the unique Sadler Gate. Packed with character and charm, it prides itself on delivering the best bistro style dishes. The restaurant is a rustic intimate space with table candles providing a relaxing atmosphere in the evenings.
Menus change seasonally; making sure that as much locally supplied produce is used as possible. All food is freshly prepared on the premises with a good selection of home-made desserts, cocktails and hand-picked wine available.
Staff are friendly and helpful. Providing an excellent service, they are also knowledgeable about the menu and drinks which enhances the experience.
There is also a beautiful sun terrace for you to enjoy the delicious food whilst sitting in the rare English sunshine.
Great offers at the Wonky Table include:
A daily two course set menu and this is available between 12 and 3pm and costs £11.95
15% off the lunch menu if you spend over £10 at another business on Sadler gate
Pre-theatre menu, available between 5 and 6:30pm. Two courses for £15.95
We advise you book a table as the restaurant can be quite busy over the weekend.
The Wonky Table features on:
Want a page like this?
Become a Love Derby Partner and take advantage of our 300,000 page views per year and over 30,000 followers on social media.
Join Us
More Restaurants in Derby
Don't let the fun stop here. Find more fun things to do and food & drink in Derby.
See Restaurants in Derby
Join the What's on in Derby mailing list
For exciting weekly what's on and Derby news.