pulse gaming lounge
Pulse Gaming Lounge.
29 Green Ln, Derby DE1 1RS, UK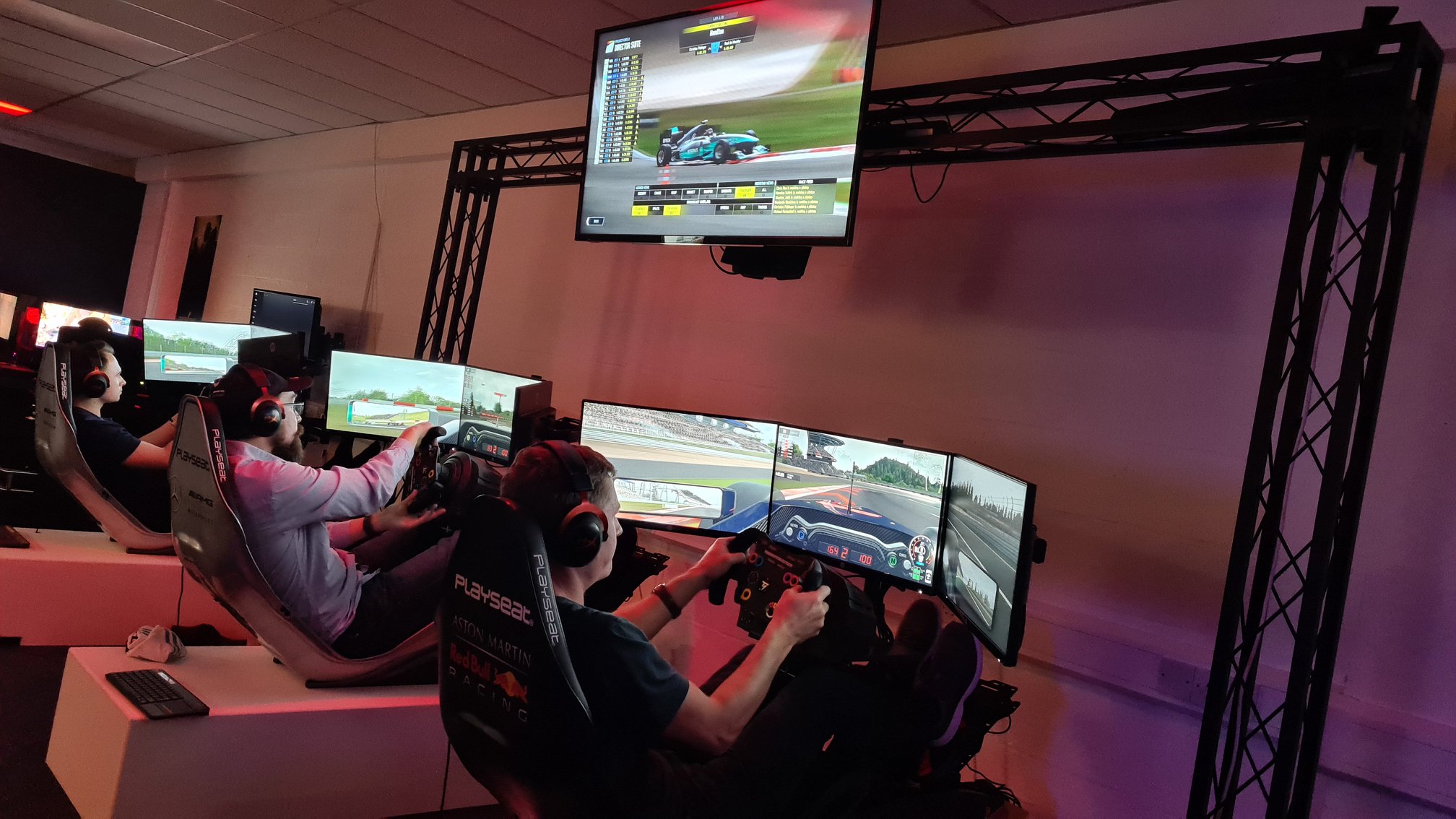 Location
29 Green Ln, Derby DE1 1RS, UK
Opening times
Mon: Corporate Only, Tue - Sun: 11:45am Till Late
Anchor
About Pulse Gaming Lounge.
PC Gaming | Virtual Reality | F1 Racing Simulations | VR Full Motion Racing Simulations | PlayStation 4 Booths | Kitchen
Pulse Gaming Lounge is a fantastic social gaming venue with a variety of activities. Open for walk-ins, general bookings, parties and corporate hire.
2 x Oculus Rift S VR Headsets
Virtual Reality is the most immersive entertainment in the world right now. In VR, you are right inside the action playing as the main character. We place you inside the fully interactive world featuring a wide selection of games for all ages, including our most popular zombie apocalypse survival. Ideal for couples, families and small groups of friends.
3 x F1 ESports Simulators
Used by the professionals in F1 ESports Series, our F1 Racing simulators are linked for multiplayer for you to go wheel to wheel against your friends and family. Featuring a triple screen surround display and performance racing wheel. Get ready for lights out and race hard to the finish line!
6 x High Spec ESports Gaming PCs
Time to get competitive with our high end gaming performance PCs. Featuring a selection of games for you to team up or go head to head with your friends. Follow us to stay up-to-date on the latest in-house ESports comeptitions.
Commercial Full Motion Racing Platform
Pulse Gaming is one of the only locations in the Midlands where you can readily race in a Full Motion Racing Simulator Platform. Put on your VR headset and really feel like you're in the cockpit of a performance race car. Providing up to 1.5g of force through every turn, acceleration and braking, it's the closest you'll get to actually being on a race track.
2 x PlayStation 4 Booths
Chill out and relax for some casual gaming in the PS4 Booths. Enjoy some split screen gaming on popular titles like FIFA and Tekken while enjoying some quality food from our kitchen.
WHAT IS VIRTUAL REALITY
Virtual Reality, or "VR" is a digital simulation of an environment directed towards the player in an immersive 3D image that can be interacted and engaged with in seemingly real ways. VR provides the ultimate gaming platform by putting you inside the game and the best part is, you don't need to play games or be a "Gamer" to enjoy it.
With lots of games to choose, from being the survivor of a zombie apocalypse, to taking on an alien invasion as a bounty hunter, destroying an evil mega corporation in a cyberpunk resistance or defending fantasy castles from orcs and dragons? Do it all and more in VR at the Pulse Gaming Lounge!
Want a page like this?
Become a Love Derby Partner and take advantage of our 300,000 page views per year and over 30,000 followers on social media.
Join Us
Excellent evening of gaming, entertainment and food
Had a booking to play some VR games, had an excellent time. Excellent value for money, decent food and drinks. Friendly and helpful staff, 11/10 would recommend.
Bogdan Lazarev
More Things to do in Derby
Don't let the fun stop here. Find more fun things to do and food & drink in Derby.
See Things to do in Derby
Join the What's on in Derby mailing list
For exciting weekly what's on and Derby news.