paradise island adventure golf derby
Paradise Island Adventure Golf, Derby.
intu Derby, West Mall, Derby, DE1 2PL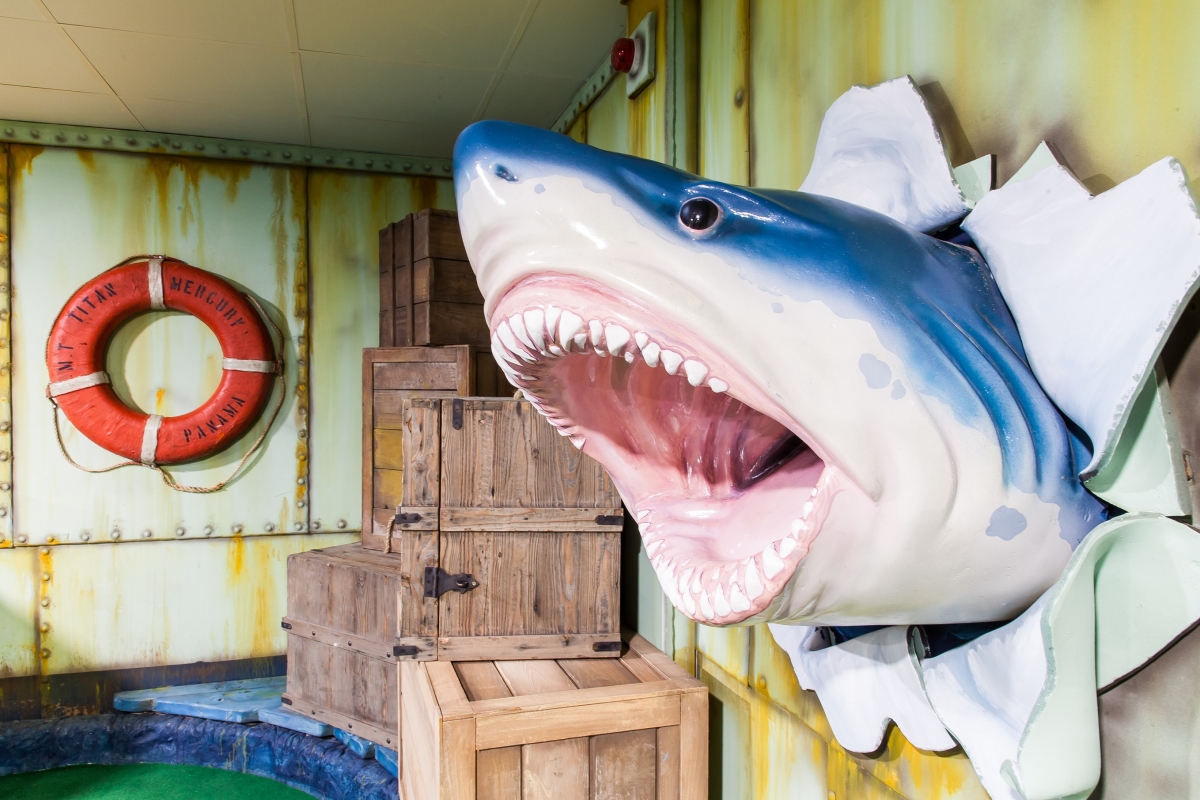 Anchor
About Paradise Island Adventure Golf, Derby.
The Love Derby team were lucky enough to be invited to try out the new adventure golf course in Derby's intu
You would be forgiven for wondering where they would put an adventure golf course in the intu, and it would be the car park on level 3 that made way for this attraction.
After walking down a long corridor and passed the new Hollywood Bowl, you begin to see the unmistakable logo of Paradise Island; adventure awaits!
There was a feeling that we had walked into a theme park, which added a nostalgic sense of fun.
After collecting our golf clubs and balls it was time to start on course 1, named Shark Bay.
The course was an abandoned shipwreck theme with sea caves, filled with seaweed and a giant octopus! The sound of waves crashing and wind blowing added to the immersive experience.
We were then lead to a beach featuring pebbles and shells, before reaching castaway camp with turtles and shark fishing. Finally, we trekked along the jungle path before completing our journey in the tribal village and cannibal camp (don't worry no one got eaten!).
Next, it was onto the Mermaid Rock course which began at the docks and then travelled through the monkey temple, full of vines and lush tropical plants with monkey calls and sounds of jungle creatures. This eastern expedition then continued through the lost lagoon and finished in a mystical bazaar spice market full of fragrant fruits, carpets and lanterns, against a backdrop of rich sounds and smells.
But make sure you save some of your shooting skills for hole 19, where you are given the chance to win a free game pass!
If you are planning to do one course straight after the other you might find it tiring if you are not 100% full of beans. I would advise doing one, and then treating yourself to game another time.
Also, please make sure to travel light as you will need to carry your belongings round with you.
Both courses were great fun, and the decor and sounds certainly made the experience more interesting and engaging. Also, I won which helped!
Prices for 1 course range from £4 for under 5's to £24 for a family of 4. Adults are £8.
Prices for 2 courses range from £5 for under 5's to £36 for a family of 4. Adults are £12.50.
Have you been? Put your comments below!
Want a page like this?
Become a Love Derby Partner and take advantage of our 300,000 page views per year and over 30,000 followers on social media.
Join Us
Write a review.
To help your fellow visitors, add a review of Paradise Island Adventure Golf, Derby.
Write a review
More Things to do in Derby
Don't let the fun stop here. Find more fun things to do and food & drink in Derby.
See Things to do in Derby
Join the What's on in Derby mailing list
For exciting weekly what's on and Derby news.