vanilla raspberry white chocolate cake
Vanilla raspberry and white chocolate cake.
Check out Jenny's recipe to make this showstopper dessert.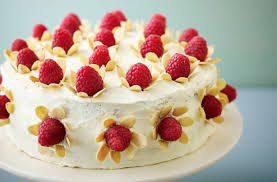 Anchor
Difficulty: 5/5
Ingredients for the sponge:
400g 
White chocolate
300g 
Butter (unsalted) cut into small pieces
300ml 
Milk
2tsp Vanilla essence
300g 
Unrefined golden caster sugar
4 large eggs
450g 
Plain white flour
3tsp 
Baking powder
Ingredients for the icing:
750g 
White chocolate chopped
1tsp vanilla essence
250ml 
Single cream
Ingredients for decoration:
150g 
Raspberry jam
100g Freeze dried raspberry pieces
Raspberry's halved/ or crushed
Method
1. Heat the oven to 180°C, (fan 160°C, gas mark 4), grease and line three 20cm round
cake tins with baking paper.
2. Melt the chocolate, butter and milk together in a small pan on a medium heat.
Transfer to a bowl and set aside to cool completely.
3. Once cool add the sugar, vanilla and eggs and whisk until well combined. Then fold
in the flour and baking powder. Divide the mixture between the three tins and bake in
the oven for 45-55 minutes, or until golden and springy to the touch. Transfer to a
wire rack and allow to cool for 10 minutes, before turning out to cool completely.
4. While the cake is baking you can make a start on the icing. 
Place the chocolate,
cream and vanilla in a heatproof bowl set over a pan of barely simmering water, (not
allowing the bowl to come into contact with the water), stirring until melted and
smooth.
5. Remove the bowl from the heat, set aside to cool, then cover with cling film before
placing in the fridge to chill for 1 hour or until it reaches a thick, spreadable
consistency.
6. Spread the icing into the middle of each cake and spread the jam onto the other side
(like a sandwich), then add in the sliced/ crushed raspberries.
7. Assemble the cake into three tiers and then add the remaining white chocolate icing
to the top tier and around the cake with a palette knife.
8. Decorate the cake with freeze dried raspberry pieces.
Want a page like this?
Become a Love Derby Partner and take advantage of our 300,000 page views per year and over 30,000 followers on social media.
Join Us
More Recipes
Don't let the fun stop here. Find more fun things to do and food & drink in Derby.
See Recipes
Join the What's on in Derby mailing list
For exciting weekly what's on and Derby news.